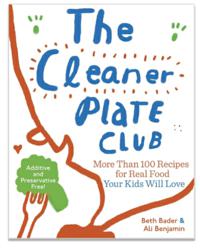 Pocantico Hills, NY (PRWEB) December 31, 2011
Beth Bader and Ali Benjamin met over kale chips, bonded over kids, and ultimately wrote The Cleaner Plate Club, a book that bridges the gap between the sustainable food world and real families getting food on the table several times a day. The book which NPR-affiliate KCUR called Michael Pollan for real people presents 100+ kid-tested recipes, and a vast array of friendly tips, and practical, friendly information for families trying to embrace more local, seasonal eating.
The event will be held at 1:00 p.m., January 14, 2012. Hear why Beth and Ali wrote the book, pick their brains about how to introduce more variety and nutrition into your familys diet, and sample a taste of a healthy snack they will make!
This event also offers a unique surprise. Benjamin and Bader collaborated on the entire book by phone and email only. This will be their first meeting in person and first event together to discuss The Cleaner Plate Club.
About the Authors
With two kids who range into the extremely picky end of the spectrum, Ali Benjamin, co-author of The Cleaner Plate Club, serves up real-mom advice right from the trenches of living it. For co-author Beth Bader, the battle is keeping her child to eating healthy in a culture of food marketing and processed food that is perfectly designed to replace our childrens diets with cheap junk.
Together, Ali and Beth help parents understand picky eating behaviors; where they originate, and how to deal with them creatively to get kids to eat better without any sneaking, lying or fights. And without the judging or holier-than-thou advice that parents dont want and dont need.
The Cleaner Plate Club also includes information to help parents understand all the overwhelming headlines about industrial food, its safety hazards, and the harm it has done to our environment and most of all, our kids. The book, written by real moms, provides all things parents need most: